U.S. PARMA ATTENDING WOMEN'S WORLD CUP IN CANADA
U.S. PARMA has announced it will be attending the Women's World Cup in Canada next summer. The trip will take place June 20-27, 2015 and will include stops in both Ottawa and Montreal. Parents, players and coaches will enjoy two Round of 16 games and a Quarterfinal match. Players will train with international coaches and play in 3 friendly matches against international competition as well as take a trip to La Ronde Six Flags. More details and an informational meeting will be coming soon.
PETROCELLI BROTHERS INVITED TO PRO TRYOUT
Dante and Enzo Petrocelli of the U.S. PARMA Ragazzi team have been invited to tryout for the Miami United. The team captured the 2014 Sunshine Conference Championship of the NPSL. We wish Dante and Enzo all the best as try to reach the next level of their soccer careers. They head down to Florida next week with U.S. PARMA Director of Coaching Luigi "Lou" Trentacoste.
COLLEGE ID CAMP CONCLUDES
Our Girls' College ID Camp concluded after a successful week on the field and some very cooperative weather. Coach John Sumoski of Wilkes University (PA-D3) started things off with a session on passing/receiving. On Tuesday Jim Moore of Georgian Court University (NJ-D2) presented his philosophies on defending while Jim Kennedy from The King's College (NYC-USCAA) worked on dribbling moves and turns. Wednesday Brian Doherty of Kean University (NJ-D3) introduced transitioning quickly from defense to offense. We wrapped things up on Thursday with Rob Bielan of St. Peter's University (NJ-D1) working on speed/agility/fitness and Heather Barclay of Queens College (NY-D2) ended the week with attacking and finishing. After each session the coaches discussed many of the aspects of the college soccer recruiting process and took questions from the girls. We thank all of the coaches and campers for a tremendous week of camp, and we hope everyone can return next year.
SPIRITO'S FILIPPONE FEATURED IN AT A GIRL
New Jersey City University junior women's soccer midfielder and co-captain Amanda Filippone (Kenilworth, NJ/David Brearley) has had her challenging battle with epilepsy, a neurological disorder, chronicled in an in-depth feature in the women's sports blog At A Girl. Amanda has been a member of the nationally ranked U.S. PARMA Spirito team since they started at U14 until U23. She also helps train and coach our younger PARMA girls' teams. For the whole story, click here.
U18G LIBERTA OFF TO COLLEGE!
Our U18G Liberta team started at PARMA as our little U13 girls, now in a month or so they will be off to college. We wish all of our Liberta players past and present much success as they begin this new journey. Casey Trezza, a member of the team since U13, said "I don't think I would have been playing college soccer if it wasn't for PARMA. My coaches and teammates helped me along every step of the way, from convincing me I was able to play at the next level to actually contacting college coaches. My experience at PARMA has well prepared me for the future, and I could not have done it anywhere else." Casey was also a captain and four year varsity player at New Providence High School where she had the game winning goals in the Group 1 State Championship game two years in a row!
Casey Trezza - Scranton University
Vicky Uthman - Stony Brook University
Tori Gamorski - William Paterson University
Thalia Santacruz - Drew Universty
Marissa Cooney - Ramapo College
Carlee Gonzalez - St. Peter's University
Kelly Jamison - Georgian Court University
Jessica Benoit - Centenary College
Colleen Burke - Farleigh Dickinson University - Madison
Catalina Lozano - Union County College
Kate Lowe - Fordham University
Alana Candido - Lehigh University
Camille Ford - Boston College
Emily Chicules - William & Mary
Amanda Womelsdorf - University of Connecticut
Congratulations to our teams on some recent performances!
U18G Liberta: US Club NJ Cup Quarterfinalists and Columbia Invitational Champions
U17G Vittoria: YMS Epic and Columbia Invitational Finalists, PA Classics Mid Atlantic Cup Showcase Semi-Finalists
U16G Tempesta: Rider Cup Champions, Columbia Invitational Finalists, NJ State Cup Quarterfinalists
U15G Leonesse: PA Classics Mid Atlantic Cup Showcase Champions
U14G Aventura: Columbia Invitational Semi-Finalists
U13G Vespe: Jersey Shore Champions Cup Champions
U12G Attaccanti: YMS Epic Semi-Finalists
U17B Cavalieri: Morris Showcase Cup Finalists
U16B Forza: Jersey Shore Champions Cup Finalists
U11B Atletico: West Windsor Sunburst Champions
CONGRATULATIONS TO OUR NJGSCA HONOREES!
The following players were honored being named among the top female high school players in the state by the New Jersey Girls Soccer Coaches Association for the Fall 2013 season.
Jess Benoit - U.S. PARMA U18G Liberta - Raritan HS
Kate Lowe - U.S. PARMA U18G Liberta - Union Catholic HS
Catalina Lozano - U.S. PARMA U18G Liberta - Rahway HS
Barbara Paiva - U.S. PARMA U18G Liberta - Kearny HS
Thalia Santacruz - U.S. PARMA U18G Liberta - Rahway HS
Melissa Dunn - U.S. PARMA U17G Vittoria - Oak Knoll HS
New Jersey Soccer Association Celebrates 100th Year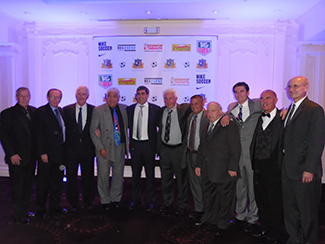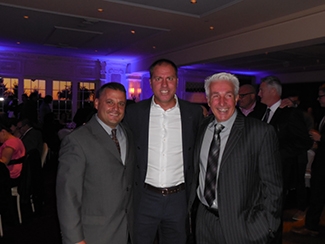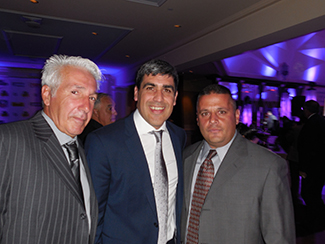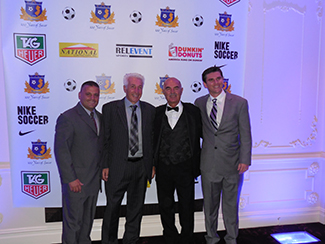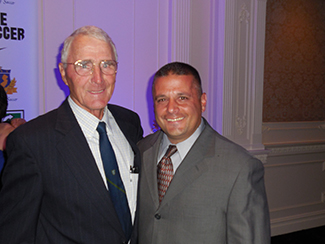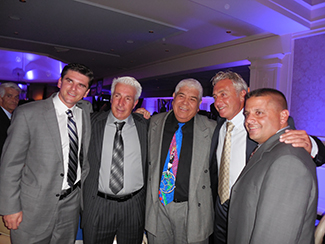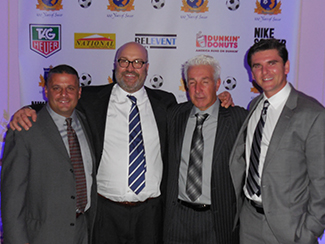 The New Jersey Soccer Association celebrated it's 100th year of existence this year. Formed in November 1913, the NJSA is, together with the New York State Soccer Association, one of the oldest members of the United States Soccer Federation which was also formed just earlier that year, in May 1913.
On November 3, 2013, members of the U.S. PARMA Soccer Club attended the celebration dinner/dance. In attendance were NJSA Hall of Famers, representatives from soccer clubs within the State, former professional coaches and players, and former U.S. National Team players.
Photos above include: U.S. PARMA Soccer Clubs President Phillip Iuliano, Director of Coaching Luigi Trentacoste, Head Coaches Franco Maneiri and Eldar Zulic, Claudio Reyna, Giovanni Savarese, Miguel Reyna, Manfred Schellsheidt, Charlie Stillitano, and Ferdinando De Matthaeis.