Tryouts
U.S. PARMA Soccer Club announces tryouts for the 2014/2015 season
Boys Teams
Monday: April 21, 28, May 5
Time: 6:30-8pm
U11B Atletico
U12B
U13B Stallone
Tuesday: April 22, 29, May 6
Time: 6:30-8pm
U14B Bandito
Thursday: April 24, May 1, 8
Time: 7-8pm
U10B
Girls Teams
Monday: April 21, 28, May 5
Time: 6:30-8pm
U13G Attaccanti
Tuesday: April 22, 29, May 6
Time: 6:30-8pm
U14G Vespe
Thursday: April 24, May 1, 8
Time: 7-8pm
U10G
U11G
U12G
High School Achievements and Awards
Congratulations to all of our players
U18G Liberta Team:
Eliza Rodrigues (Kearny HS) First Team All-Hudson County, team repeated as Hudson County Champions.
Barbara Paiva (Kearny HS) First Team All-Hudson County, First Team All-HCIAL, Coaches' All-Division Team, Team MVP, Team Most Offensive Player, team repeated as Hudson County Champions.
Vicky Uthman (Lakeland HS) First Team All-Passaic County, First Team All-Big North Independence Conference.
Thalia Santacruz (Rahway HS) First Team All-Union County.
Jessica Benoit (Raritan HS) All-State and All-County honors.
U17G Vittoria Team:
Carlie Mayer (Westfield HS) captain of JV team, Union County JV co-Champions.
Sara McCutcheon (Westfield HS) All-Union County Conference-Watchung Division Honorable Mention.
Rachel Freeman (Scotch Plains HS) Union County and Watchung Conference Champions.
Amanda Kopacz (Mount St. Mary's Academy) Skyland Conference Valley Division Second Team.
U16G Tempesta Team:
Stephanie Spada and Alyssa Corea (Bishop Ahr) Undefeated season, Sectional State Champions Non-Public A South, NJSIAA Non-Public A State Champions.
Julia Madsen (Cranford HS) runner up in Union County Tournament.
Kayla Whitaker (Roselle Catholic HS) Union County Valley Team All-Star Midfielder, Coaches' award for offensive player of the year.
Giana Gigantino (Colonia HS) Home News Tribune All-Middlesex County Honorable Mention, recognized twice by her Athletic Director for outstanding performances.
Angela Arpino (Jonathon Dayton) All Union County Valley Division.
U15B Furia:
Rohan Roy (JP Stevens) Coaches' award for most improved.
New Jersey Soccer Association Celebrates 100th Year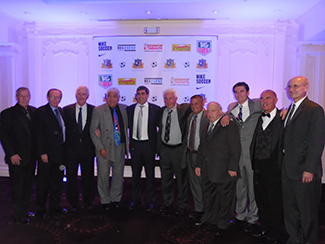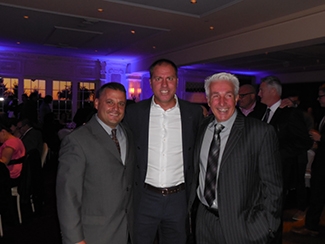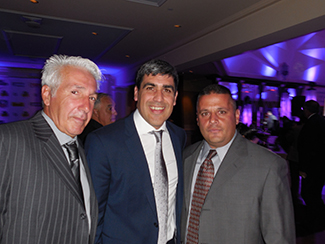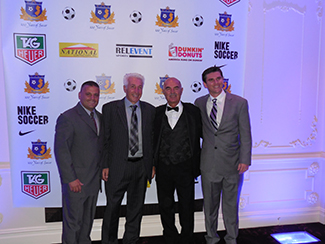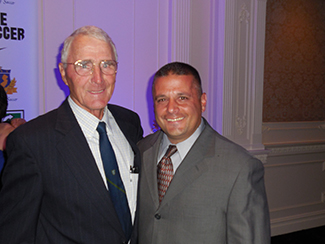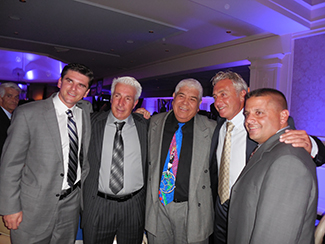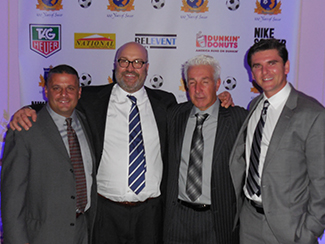 The New Jersey Soccer Association celebrated it's 100th year of existence this year. Formed in November 1913, the NJSA is, together with the New York State Soccer Association, one of the oldest members of the United States Soccer Federation which was also formed just earlier that year, in May 1913.
On November 3, 2013, members of the U.S. PARMA Soccer Club attended the celebration dinner/dance. In attendance were NJSA Hall of Famers, representatives from soccer clubs within the State, former professional coaches and players, and former U.S. National Team players.
Photos above include: U.S. PARMA Soccer Clubs President Phillip Iuliano, Director of Coaching Luigi Trentacoste, Head Coaches Franco Maneiri and Eldar Zulic, Claudio Reyna, Giovanni Savarese, Miguel Reyna, Manfred Schellsheidt, Charlie Stillitano, and Ferdinando De Matthaeis.
U.S. PARMA Girls Meet WNT Legends!
Last week at a camp held in Flemington, NJ members of several U.S. PARMA girls' teams had the opportunity to meet Women's National Team legends, Mia Hamm Tisha Venturini-Hoch and Kristine Lilly. Coach Jeanine Calhoun of Hunterdon Central High School, who coaches several of our PARMA girls, extended the invitation to PARMA players to attend the camp. The girls and the club thank Coach Calhoun and are grateful for this tremendous experience. Sarah London of our U18G Coraggio team was quoted in an article in a local paper. Sarah was an assistant coach at the camp and also had dinner with the three headliner coaches!
(Left) U18G Coraggio player Sarah London with Mia Hamm
(Right) U15G Tempesta player Giana Gigantino with Hamm, Kristine Lilly and Tisha Venturini-Hoch
Congratulations to Dante and Enzo Petrocelli
Congratulations to Dante and Enzo Petrocelli, (U.S. PARMA Ragazzi Team 2010-2012) for being accepted in the ACF Fiorentina's partnership academy player development program in Florence, Italy.
The Petrocelli Twins will have the training guidance of ACF Fiorentina staff while training with the U17 & U21 Fiorentina Teams. They will also have the opportunity to play with local and international affiliated clubs. During this time, to better integrate with their team and adapt to the culture, the academy has registered them to take scholastic courses that fit with their soccer schedule.
The boys are very proud of this opportunity in Florence, Italy and said: "WE TAKE WITH US GREAT MEMORIES FROM THE 2011 U.S. PARMA TRIP TO ITALY TO BE A PART OF THE CLUB'S FIRST ITALIAN SOCCER EXPERIENCE PROGRAM. WE ARE THANKFUL FOR THE INITIAL OPPORTUNITY PRESIDENT PHIL IULIANO GAVE US AND FOR THE TRAINING, THE POSITIVE ENCOURAGEMENT, AND VALUES WE RECEIVED FROM OUR PROFESSIONAL COACH AND MENTOR, LUIGI TRENTACOSTE."
President Phil Iuliano: "The entire U.S. PARMA Soccer Club, it's staff, and members are very proud of the boys for this accomplishment. We wish them well. They will enjoy and benefit from this experience."
The boys are set to leave in mid August 2013. Good luck Dante and Enzo, all the best!
Honoring and Remembering Mike
Mike Wielgus 10/20/96 - 3/28/13
3/28/13 - U.S. PARMA mourns the loss of their beloved Cavalieri Team Captain Mike Wielgus. His life was cut short due to cancerous brain tumors.
Mike joined U.S. PARMA in 2009 when the Cavalieri team was formed. Mike's positive outlook and personality was an immediate impact both on and off the field. He was a true leader in every sense and aspect. He played the game with strong passion and he brought out the best in his teammates.
In the summer of 2010, Mike was selected by Club Affiliate Coaches from Atalanta B.C. and Inter-Milan to attend a week long training program in Italy. (2011 Italy Trip)
U.S. PARMA President, Phil Iuliano, "Our hearts go out to the Wielgus family. The loss of Mike is devastating to the club and all of our members. This young man was an inspiration to all of us prior to his illness as well as after he was diagnosed with life threatening cancer. His courage and fight to defeat the cancer is a true testament to his character. He simply would not permit the cancer to define his life and legacy. Mike was well respected by the staff, teammates, club members, and friends. He sets the example of what each PARMA Captain should strive to be. Heaven gained an angel today. Mike will be deeply missed but never forgotten."
The club will honor Mike by having a moment of silence at the next scheduled home game for all teams, for the rest of the season coaches and players will wear arm bands with Mike's initials and his uniform number (6) embroidered, setting up a scholarship fund in his name, and retiring his uniform number.
U.S. PARMA Partners with the LUSO Soccer Academy to Field PDL Team
The U.S. PARMA Soccer Club and LUSO Soccer Academy have successfully negotiated a partnership to promote soccer in central and north Jersey. LUSO Soccer Academy owns a PDL franchise here in NJ. The top level of soccer, of course, in the United States is the MLS (Major League Soccer). Beneath the MLS is the USL (United Soccer Leagues). The USL governs the USL Pro League (sometimes called the A League), the PDL (Premier Development League), the MISL (Major Indoor Soccer League) and the W-League (Women's Pro-Am Soccer) as well as the Super 20 and Super Y Leagues. PDL players, therefore, are only two steps away from the MLS. Just weeks ago 7 PDL alumni suited up for the US Men's National Team 2-1 loss against Honduras. In the recent MLS Superdraft, 26 PDL alumni were selected by MLS teams including 7 of the Top 10 draft picks! Another 42 PDL players were taken in the Supplemental Draft. NJ LUSO-PARMA (new team name) will be one of only four PDL teams based in NJ playing in the Mid Atlantic Division of the nationwide league.
Playing as the NJ Rangers FC since 2010, the team compiled an 8-5-3 record last year finishing 4th in the 10 team division. Head Coach Carlos Rasoilo hopes to build on that success in 2013. Luso Soccer Academy, Inc. also has affiliation with S.C. Beira-Mar, a Premier Sagres League team from Aveiro Portugal, to showcase soccer talent from the PDL Team. In July 2011, coaching staff arranged a tryout session for PDL's Dominic Reinold, Rookie of the Year Runner-up in 2010 season. Because of this tryout, Reinhold had the opportunity to demonstrate his soccer abilities and signed a professional contract for two years with S.C. Beira-Mar. S.C. Beira-Mar will work in conjunction with Luso Soccer Academy to arrange trials for the elite player that shows the potential to play at a professional level. "They have shown interest in using our group as an avenue to bring young talent to their club." Coach Rasoilo, who played in the youth ranks of S.C. Beira Mar before coming to United States, maintains a good relationship with the professional club and was happy that he was able to help Reinhold in obtaining a try-out. NJ LUSO Rangers head coach Carlos Rasoilo, a well known youth soccer coach for his many accomplishments at the youth level said, "I am extremely excited to form this partnership with U.S. PARMA. Both our organization believe in the quest to deliver quality soccer to youth. U.S. PARMA is a well established youth club with great leadership and talented staff. This partnership will be beneficial to both organizations. NJ LUSO Rangers coach goes on to say; "The merger creates a large based club that will immediately show prominence in this area. Combining our resources will allow us to deliver increased opportunities to the central/northern New Jersey region.
U.S. PARMA has had a successful history of promoting players to the D1, D2, and D3 levels of college soccer as well as the professional ranks. The club also has contacts with professional clubs in Germany as well as at Inter Milan, Atalanta, Torino and other clubs in Italy. The partnership with LUSO Soccer Academy will bring added exposure to players who dream of one day signing a professional contract. U.S. PARMA President Phillip Iuliano said, "The meetings went very well with the representatives from LUSO. Their philosophy on soccer, coincides with U.S. PARMA. Having a team represented at the USL/PDL level adds value to the development system and overall program. Both parties truly benefit. Our youth players will have opportunities and exposure to the USL/PDL level and LUSO has a direct and immediate feeder program of youth players to select from."
U.S. PARMA and LUSO Soccer Academy will immediately begin to share resources to build the PDL team's roster and to market the team. The two sides will also begin developing a plan to set up a Super Y Youth program for the summer of 2014.
NEW JERSEY GIRLS SOCCER COACHES ASSOCIATION HONORS ALL-STATE PLAYERS
The New Jersey Girls Soccer Coaches Association (NJGSCA) conducted their annual dinner celebration in December to honor the girls that were selected to the All-State Team.

Six U.S. PARMA girls from three teams were selected and we congratulate all of them!
U18 Girls Coraggio
Emily Greer - Edison
Christine Miklas-Scotch Plains - Fanwood
Leah Salituro-Scotch Plains - Fanwood
U17G Liberta
Carlee Gonzalez - South Plainfield
Thalia Santacruz - Rahway
U16G Vittoria
See complete list here: njgsca.org