U.S. PARMA SOCCER CLUB ANNOUNCE CANADA WOMEN'S WORLD CUP TOUR 2015
U.S. PARMA Soccer Club announced a partnership with XL Travel that will see the Soccer Tour provider become the official travel partner of the club for a summer tour of the Women's World Cup in Canada 2015. XL Soccer Tours provides soccer clubs, schools and colleges with the opportunity to travel the globe and immerse themselves in the worldwide 'football' phenomenon. XL has a staff with over 50 years of combined International soccer experience taking teams on world class tours almost anywhere in the world with the most popular destinations being Europe and Brazil. Their official partnerships in place with professional clubs allow teams to train, play and watch live games in their home stadiums. In addition to the prospect of being trained by some of the top academy coaches across the world XL Soccer Tours also has provided teams with the chance to play at some of the largest international tournaments in the world such as the Buenos Aries, San Marino, Dana, Donosti and Gothia Cup.
"Our relationship with XL Soccer Tours will mean that players and their families will have the chance to experience a full scope soccer venue. We have been looking to partner with a travel organization to provide this type of program and XL Soccer Tours comes with a very high recommendation and credibility in the field. Our aim is for international soccer tours to be an annual event for our teams starting with the Women's World Cup in Canada next year." Says Phil Iuliano, President of U.S. PARMA Soccer Club.
XL Soccer Tours Director of Business Development, Nick Dunbar was delighted with this new relationship. "We are thrilled to be working alongside U.S. PARMA Soccer Club to provide a unique soccer travel experience for players, parents, siblings and coaches. The commitment the club is showing to youth development and this new addition of international travel mirrors that of the top European academies and will provide the next step in a player's education. We truly believe that this will be the beginning of a long and rewarding relationship with the club and will provide a fantastic opportunity for those who tour to live their soccer dream!"
For further information on XL Travel Soccer Tours go to www.xlsoccertours.com or call 877-286-3809
Contact: Nick Dunbar, Director of Business Development
XL Soccer Tours
nickdunbar@xlsportsworld.com
VICTORY SOCCER ACADEMY FUTSAL PROGRAM 2015
Victory Soccer Academy, LLC
560 Springfield Ave. (Suite B)
Westfield, NJ 07090
Futsal is the fast paced indoor soccer game. Futsal is a wonderful training tool that has players focus on technique.
Futsal is played 5 v 5 (4 field players and a GK)
Games will be played on Sunday's starting on 1/4/2015 and running each Sunday until 3/1/2014. (No Games on Sunday 2/1/2014) All games will be played at The Wardlaw-Hartridge School in Edison, NJ.
Each team will play 8-40 minute games. (2 x 20 min Halves)
Age Groups U11-12, U13-14, and HS Age Brackets
Games will run 8AM - 7PM
Sanctioned Futsal Referees
Roster Max is 12 Players
Players can Join Separately or with Team
Team entry fee is $750 and includes all referee fees.
Single Players $125
Registration Deadline is November 14, 2014
For further information and to register your team please email Program Director Rui Aquiles: ruiaquiles@verizon.net
2014 U.S. PARMA ANNUAL HOLIDAY PARTY
SPIRITO'S FILIPPONE FEATURED IN AT A GIRL
New Jersey City University junior women's soccer midfielder and co-captain Amanda Filippone (Kenilworth, NJ/David Brearley) has had her challenging battle with epilepsy, a neurological disorder, chronicled in an in-depth feature in the women's sports blog At A Girl. Amanda has been a member of the nationally ranked U.S. PARMA Spirito team since they started at U14 until U23. She also helps train and coach our younger PARMA girls' teams. For the whole story, click here.
U18G LIBERTA OFF TO COLLEGE!
Our U18G Liberta team started at PARMA as our little U13 girls, now in a month or so they will be off to college. We wish all of our Liberta players past and present much success as they begin this new journey. Casey Trezza, a member of the team since U13, said "I don't think I would have been playing college soccer if it wasn't for PARMA. My coaches and teammates helped me along every step of the way, from convincing me I was able to play at the next level to actually contacting college coaches. My experience at PARMA has well prepared me for the future, and I could not have done it anywhere else." Casey was also a captain and four year varsity player at New Providence High School where she had the game winning goals in the Group 1 State Championship game two years in a row!
Casey Trezza - Scranton University
Vicky Uthman - Stony Brook University
Tori Gamorski - William Paterson University
Thalia Santacruz - Drew Universty
Marissa Cooney - Ramapo College
Carlee Gonzalez - St. Peter's University
Kelly Jamison - Georgian Court University
Jessica Benoit - Centenary College
Colleen Burke - Farleigh Dickinson University - Madison
Catalina Lozano - Union County College
Kate Lowe - Fordham University
Alana Candido - Lehigh University
Camille Ford - Boston College
Emily Chicules - William & Mary
Amanda Womelsdorf - University of Connecticut
Congratulations to our teams on some recent performances!
U18G Liberta: US Club NJ Cup Quarterfinalists and Columbia Invitational Champions
U17G Vittoria: YMS Epic and Columbia Invitational Finalists, PA Classics Mid Atlantic Cup Showcase Semi-Finalists
U16G Tempesta: Rider Cup Champions, Columbia Invitational Finalists, NJ State Cup Quarterfinalists
U15G Leonesse: PA Classics Mid Atlantic Cup Showcase Champions
U14G Aventura: Columbia Invitational Semi-Finalists
U13G Vespe: Jersey Shore Champions Cup Champions
U12G Attaccanti: YMS Epic Semi-Finalists
U17B Cavalieri: Morris Showcase Cup Finalists
U16B Forza: Jersey Shore Champions Cup Finalists
U11B Atletico: West Windsor Sunburst Champions
CONGRATULATIONS TO OUR NJGSCA HONOREES!
The following players were honored being named among the top female high school players in the state by the New Jersey Girls Soccer Coaches Association for the Fall 2013 season.
Jess Benoit - U.S. PARMA U18G Liberta - Raritan HS
Kate Lowe - U.S. PARMA U18G Liberta - Union Catholic HS
Catalina Lozano - U.S. PARMA U18G Liberta - Rahway HS
Barbara Paiva - U.S. PARMA U18G Liberta - Kearny HS
Thalia Santacruz - U.S. PARMA U18G Liberta - Rahway HS
Melissa Dunn - U.S. PARMA U17G Vittoria - Oak Knoll HS
New Jersey Soccer Association Celebrates 100th Year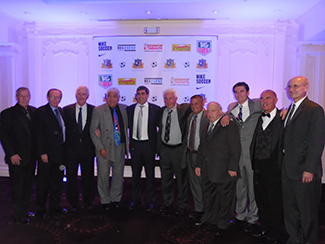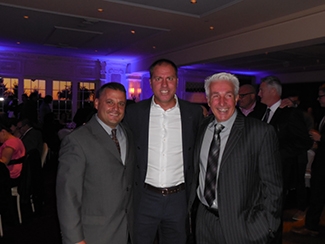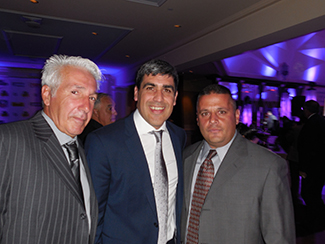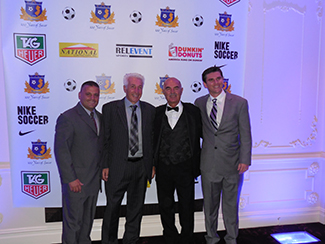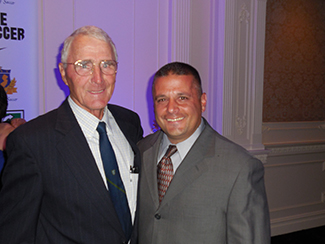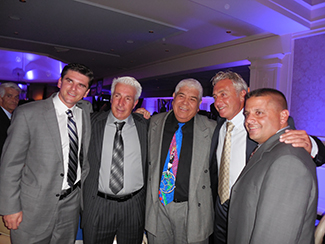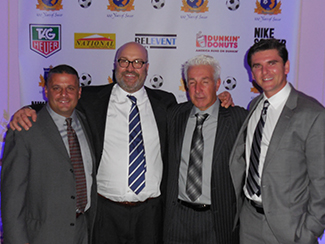 The New Jersey Soccer Association celebrated it's 100th year of existence this year. Formed in November 1913, the NJSA is, together with the New York State Soccer Association, one of the oldest members of the United States Soccer Federation which was also formed just earlier that year, in May 1913.
On November 3, 2013, members of the U.S. PARMA Soccer Club attended the celebration dinner/dance. In attendance were NJSA Hall of Famers, representatives from soccer clubs within the State, former professional coaches and players, and former U.S. National Team players.
Photos above include: U.S. PARMA Soccer Clubs President Phillip Iuliano, Director of Coaching Luigi Trentacoste, Head Coaches Franco Maneiri and Eldar Zulic, Claudio Reyna, Giovanni Savarese, Miguel Reyna, Manfred Schellsheidt, Charlie Stillitano, and Ferdinando De Matthaeis.