CONGRATULATIONS
Congratulations to all of our U.S. PARMA high school players for a remarkable 2014 high school season.
U16G Leonessse Team
Deana Maffucci - Edison High School
Achievements: Honorable mention in the Home News Tribune Girls Soccer All Area Soccer.


Gayathri Vijayakumar - Edison High School
Achievements: All White Division Team in the Greater Middlesex Conference, 2014 NJGSCA Honoree, 2014 Home News Tribune All-Area Girls Soccer Third Team


Tara Panella - Watchung Hills Regional High School
Achievements: Varsity Defensive MVP Award, All Skyland Conference, Raritan Division Second Team, All Area Honorable Mention


Michaela Woolley - Rahway High School
Achievements: All County Division Team and All State


Gina Watkins - Union County Allied Health School Plays for Plainfield HS.
Achievements: Union County All Conference Team, NJGSCA Sectional, Plainfield Public School Fall Female Athlete of the year
U17G Tempesta Team
Kayla Whitaker - Roselle Catholic High School
Achievements: Union County Girls Soccer Association 2014 All-Stars Sky Team


Maggie Wysocki - Arthur L. Johnson High School
Achievements: Union County Coach Association - All County Defense, New Jersey Girls Soccer Coach Association - All State Sectional Recognition Defensive Player


Taylor Machuga - High Point Regional High School
Achievements: NJAC Second Team All Conference


Lauren Yates - Wardlaw-Hartridge High School
Achievements: GMC Blue Division Conference Champs: 11th grade, All-Prep B, 2nd Team: 11th grade, All-Area, Honorable Mention
U18G Liberta Team
Melissa Dunn - Oak Knoll School High School
Achievements: 1st Team All Mountain Division, All Conference Team Union County


Claudia Doll - North Brunswick High School
Achievements: All State NJGSCA


Jamie Roth - Holmdel High School
Achievements: Captain Group 2 State Champions, Team Victory Award
U18B Cavalieri Team
Julio Velez - Carteret High School
Achievements: GMC All-Blue Division, All-Area Honorable Mention


Zachary Wolcott - Jonathan Dayton High School
Achievements: First Team All County, Selected to participate in Soccer Coaches Association of NJ "SCANJ" , Senior All Star Game at Rowan University, All State Honorable Mention


Julian Webster-Hernandez - Wardlaw-Hartridge High School
Achievements: Greater Middlesex County Conference Blue Division All Star Team, New Jersey All State Team, New Jersey All Prep Team
Celebrating 10 Years - A Decade of Coaching
Congratulations to Coach Eli Felner as 2015 marks his 10 year anniversary of coaching with the U.S. PARMA Soccer Club. Coach Eli joined the club in 2005 when the club founded the Women's Semi-Professional Team.
Through the years Coach Eli also coached and continues to coach youth teams (girls) in the club as well as assisting with keeper coaching and training.
President, Phil Iuliano, "It's hard to believe it's been 10 years. I still remember the first day I asked Eli to come on board as if it were yesterday. I am grateful for his service, loyalty, and dedication he contributes to the club day after day and year after year. I look forward to his continued success and the next 10 years."
U.S. PARMA SPRING KICKOFF TOURNAMENT
The Club is pleased to be hosting it's inaugural tournament. Tournament will feature one day competition (3 games guaranteed per team) for U11-18 boys and girls teams. For information and to register please visit the Kickoff Tournament page.
OPEN ROSTER SPOTS
Roster spots are open for the following teams:
Boys Teams
- U11 Atletico: 2 field players. Keeper experience a plus.
Girls Teams
- U15 Aventura: 1 field player. Keeper experience a plus.
- U16 Leonesse: Full time keeper and field player.
- U18 Liberta: Full time keeper and field player.
** Interested players should email club president to set up evaluation. email: phil@usparma.com
FIFA WOMEN'S WORLD CUP TOUR, CANADA 2015
PARMA Parents - friendly reminder to register for the tour.
COMING IN THE SPRING & SUMMER
Stayed tuned and continue to check the website for details on the following programs:
- Skills & Drills Program for U11-14 Boys & Girls: April-May.
- Tryouts for U10-14 Boys & Girls: April-May.
- Summer Teams for U11-14 Boys & Girls: April-May.
- College ID Camp for U15-18 Boys & Girls: June
VICTORY SOCCER ACADEMY FUTSAL PROGRAM 2015
Victory Soccer Academy, LLC
560 Springfield Ave. (Suite B)
Westfield, NJ 07090
Futsal is the fast paced indoor soccer game. Futsal is a wonderful training tool that has players focus on technique.
Futsal is played 5 v 5 (4 field players and a GK)
Games will be played on Sunday's starting on 1/4/2015 and running each Sunday until 3/1/2014. (No Games on Sunday 2/1/2014) All games will be played at The Wardlaw-Hartridge School in Edison, NJ.
Each team will play 8-40 minute games. (2 x 20 min Halves)
Age Groups U11-12, U13-14, and HS Age Brackets
Games will run 8AM - 7PM
Sanctioned Futsal Referees
Roster Max is 12 Players
Players can Join Separately or with Team
Team entry fee is $750 and includes all referee fees.
Single Players $125
Registration Deadline is November 14, 2014
For further information and to register your team please email Program Director Rui Aquiles: ruiaquiles@verizon.net
2014 U.S. PARMA ANNUAL HOLIDAY PARTY
SPIRITO'S FILIPPONE FEATURED IN AT A GIRL
New Jersey City University junior women's soccer midfielder and co-captain Amanda Filippone (Kenilworth, NJ/David Brearley) has had her challenging battle with epilepsy, a neurological disorder, chronicled in an in-depth feature in the women's sports blog At A Girl. Amanda has been a member of the nationally ranked U.S. PARMA Spirito team since they started at U14 until U23. She also helps train and coach our younger PARMA girls' teams. For the whole story, click here.
U18G LIBERTA OFF TO COLLEGE!
Our U18G Liberta team started at PARMA as our little U13 girls, now in a month or so they will be off to college. We wish all of our Liberta players past and present much success as they begin this new journey. Casey Trezza, a member of the team since U13, said "I don't think I would have been playing college soccer if it wasn't for PARMA. My coaches and teammates helped me along every step of the way, from convincing me I was able to play at the next level to actually contacting college coaches. My experience at PARMA has well prepared me for the future, and I could not have done it anywhere else." Casey was also a captain and four year varsity player at New Providence High School where she had the game winning goals in the Group 1 State Championship game two years in a row!
Casey Trezza - Scranton University
Vicky Uthman - Stony Brook University
Tori Gamorski - William Paterson University
Thalia Santacruz - Drew Universty
Marissa Cooney - Ramapo College
Carlee Gonzalez - St. Peter's University
Kelly Jamison - Georgian Court University
Jessica Benoit - Centenary College
Colleen Burke - Farleigh Dickinson University - Madison
Catalina Lozano - Union County College
Kate Lowe - Fordham University
Alana Candido - Lehigh University
Camille Ford - Boston College
Emily Chicules - William & Mary
Amanda Womelsdorf - University of Connecticut
Congratulations to our teams on some recent performances!
U18G Liberta: US Club NJ Cup Quarterfinalists and Columbia Invitational Champions
U17G Vittoria: YMS Epic and Columbia Invitational Finalists, PA Classics Mid Atlantic Cup Showcase Semi-Finalists
U16G Tempesta: Rider Cup Champions, Columbia Invitational Finalists, NJ State Cup Quarterfinalists
U15G Leonesse: PA Classics Mid Atlantic Cup Showcase Champions
U14G Aventura: Columbia Invitational Semi-Finalists
U13G Vespe: Jersey Shore Champions Cup Champions
U12G Attaccanti: YMS Epic Semi-Finalists
U17B Cavalieri: Morris Showcase Cup Finalists
U16B Forza: Jersey Shore Champions Cup Finalists
U11B Atletico: West Windsor Sunburst Champions
CONGRATULATIONS TO OUR NJGSCA HONOREES!
The following players were honored being named among the top female high school players in the state by the New Jersey Girls Soccer Coaches Association for the Fall 2013 season.
Jess Benoit - U.S. PARMA U18G Liberta - Raritan HS
Kate Lowe - U.S. PARMA U18G Liberta - Union Catholic HS
Catalina Lozano - U.S. PARMA U18G Liberta - Rahway HS
Barbara Paiva - U.S. PARMA U18G Liberta - Kearny HS
Thalia Santacruz - U.S. PARMA U18G Liberta - Rahway HS
Melissa Dunn - U.S. PARMA U17G Vittoria - Oak Knoll HS
New Jersey Soccer Association Celebrates 100th Year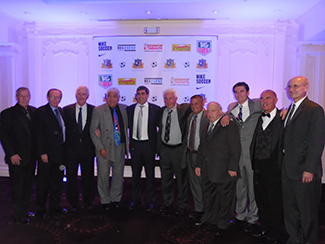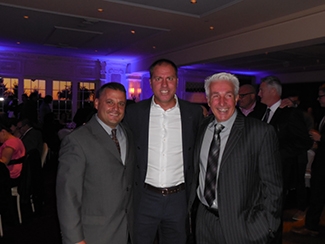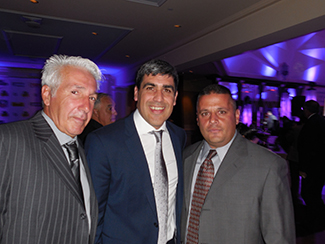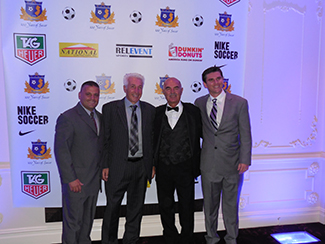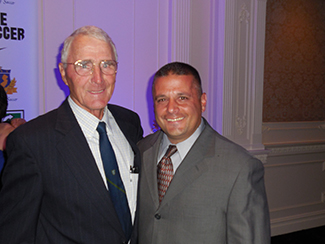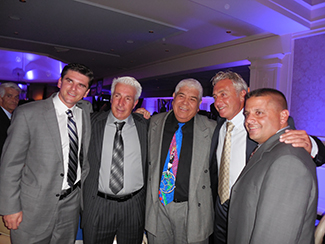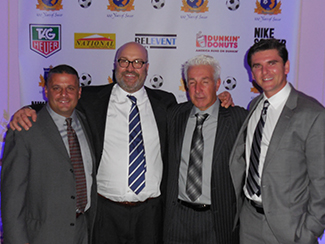 The New Jersey Soccer Association celebrated it's 100th year of existence this year. Formed in November 1913, the NJSA is, together with the New York State Soccer Association, one of the oldest members of the United States Soccer Federation which was also formed just earlier that year, in May 1913.
On November 3, 2013, members of the U.S. PARMA Soccer Club attended the celebration dinner/dance. In attendance were NJSA Hall of Famers, representatives from soccer clubs within the State, former professional coaches and players, and former U.S. National Team players.
Photos above include: U.S. PARMA Soccer Clubs President Phillip Iuliano, Director of Coaching Luigi Trentacoste, Head Coaches Franco Maneiri and Eldar Zulic, Claudio Reyna, Giovanni Savarese, Miguel Reyna, Manfred Schellsheidt, Charlie Stillitano, and Ferdinando De Matthaeis.